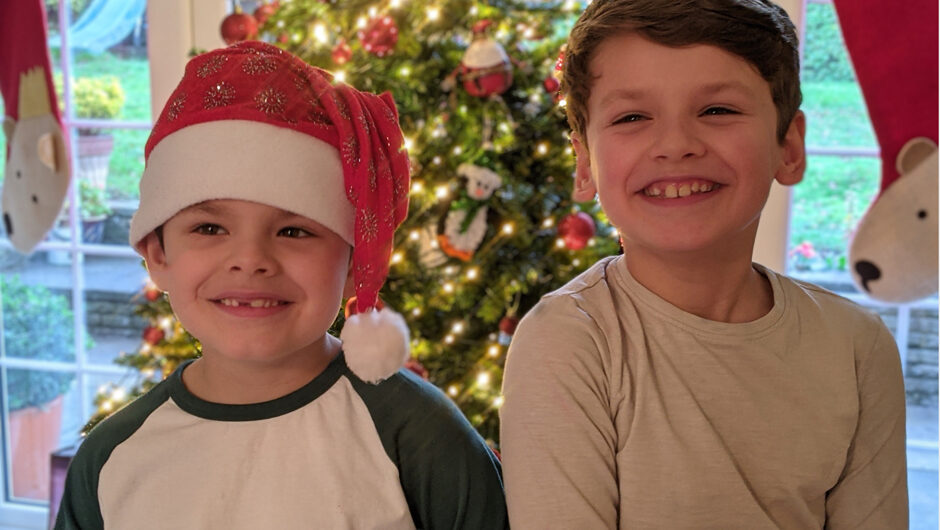 Home » Blog » Photographing Children »
As a parting gift for this year, here's some useful tips for taking pics on your smartphone over the Christmas period. All the pictures you'll see here have been taken on a very dodgy old Google Pixel 3 phone (no amazing smartphone with lots of features). They have had no digital retouching or special in-phone effects added.
I am going to demonstrate some basic photography skills to show you how to compose the best pics to share with family and friends.
Briefer than my usual blogs as your time is precious more than ever in the run up to Christmas, hopefully you can scan and grab a few nuggets.
I have focused on kids as I have kids. But same rules apply for shooting husbands (not literally), guinea pigs, newborns, you get the idea…..
1/ Fill the frame
Boring backgrounds really distract from gorgeous people. Don't be afraid to get up closer (there's a social distance joke there, I can't bear to make) and make your subject the prime focus. In the examples below I have got one of my sons to stand about 1.5 metres in front of the tree so you have a bit of a blurry background rather than everything in sharper focus. Again, you get more attention on the person your photographing and the backdrop looks a bit more pro.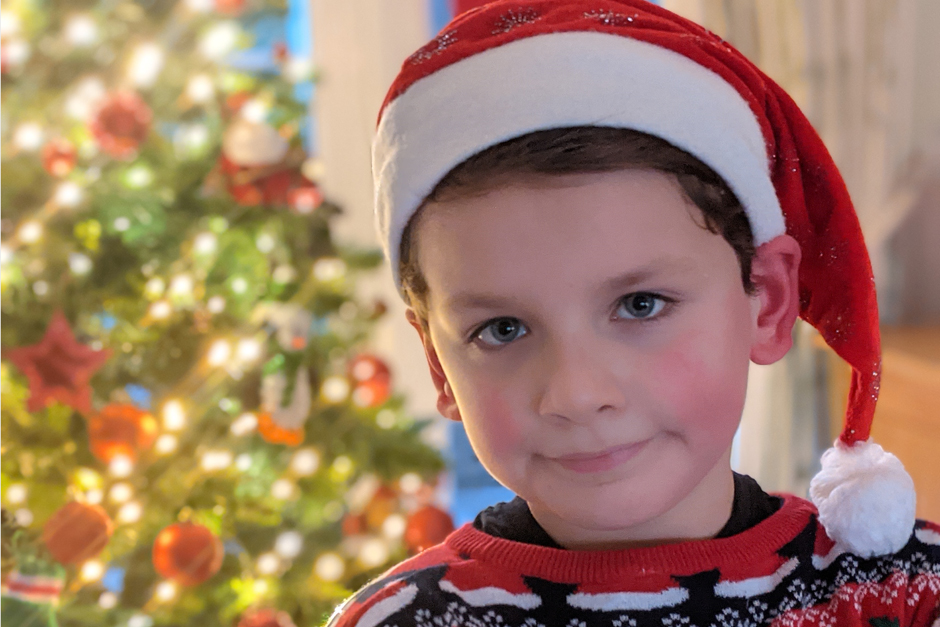 2/ Make your backgrounds look more professional
Bokeh is the beautiful blur that appears when you distance your subject from the background. Perfect at xmas when you have lots of fairy lights, it creates lots of circular blurry dots.
Here's me taking a selfie right next to the tree. Not very atmospheric and quite flat: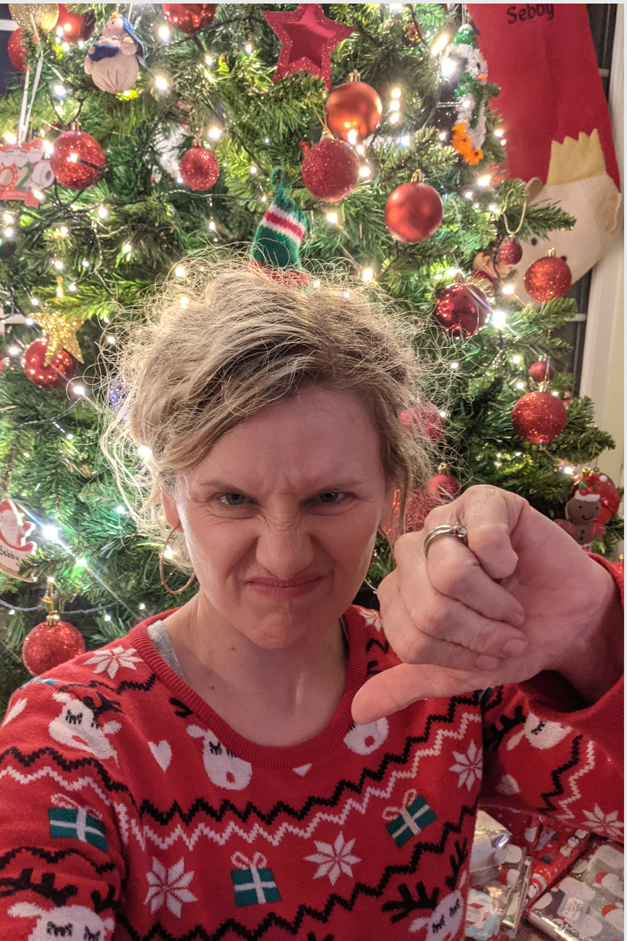 Alternatively, here's a selfie below taken 2.5 metres away from the tree. Look at that dreamy tree! You can see the lights look stunning and there's more bokeh. Have a play. If you get people to stand 1-3 metres away from the tree (space permitting!) you'll see the different effect this has in your pictures and you can work out what works best for you: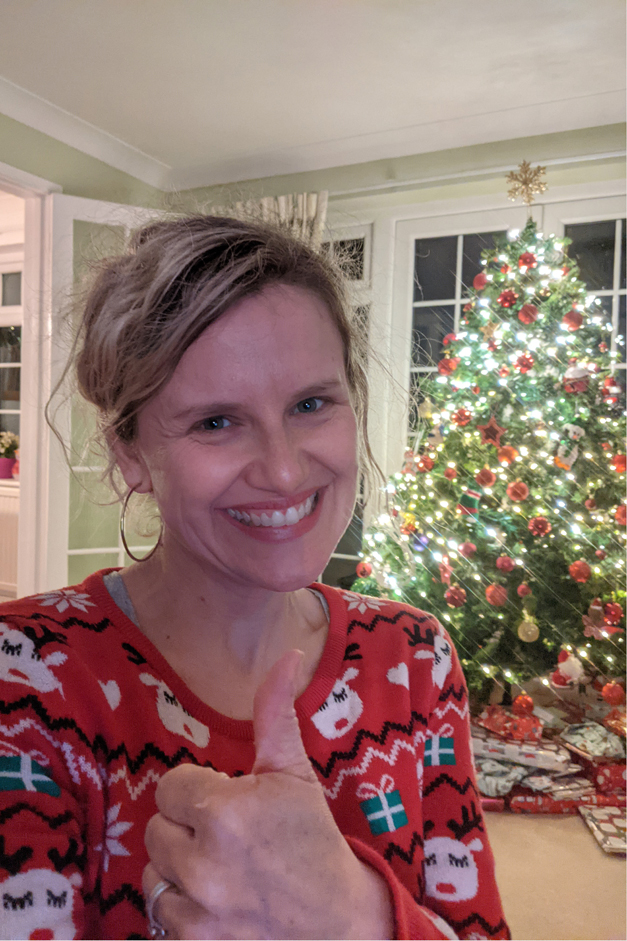 3/ Get kids to go on their tummies!
Fidgety kids don't look comfortable and like themselves – so get them on their tummies and close together, ideally with the tree in the background. If you're hip and cool you'll call this picture 'so instagrammable!' I am not. So I will say, that's the hero shot to send the old fashioned way to everyone you know on email.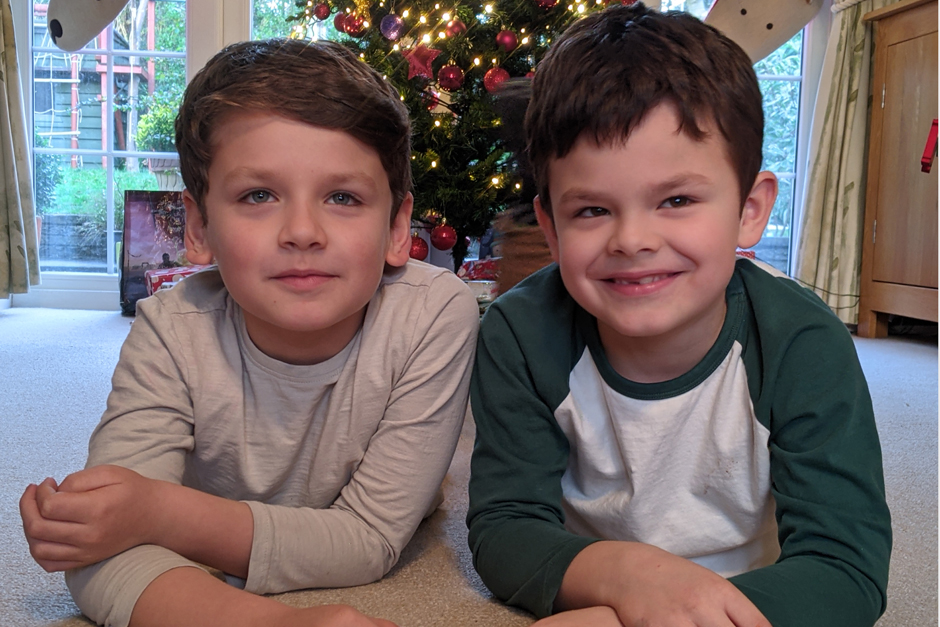 4/ Photograph the tree when it's dark outside
So Christmas is all about the beautiful lights and reflections from shiny objects. If the picture you want to send to everyone is taken at midday, it might not have the same atmosphere and feeling of Christmassy-ness (is that a word!?) that you'd planned for (I sometimes turn my tree lights off during the day for the same reason – they don't really sparkle or stand out). First thing in the morning while it's still dark or from 4pm-ish when it's closing in, your lights and decorations will come into their own. Or…because you need to do things when's best for you and your kids…fake it and close the curtains a bit and help create ambience :0)
5/ Get real unposed moments
I have to get in my 'I love natural storytelling' bit as I love it so much and truly believe it produces the best photographs. Kids invariably look better natural. Mine certainly do (you can see the photograph above with them on their tummies, they look a little awkward as they don't like their picture being taken!). Sure you do it anyway, but get all the natural pics of hugging, reactions to opening presents, laughing their bottoms off. They are often the gems! Mine look most natural and happy when they are running!!!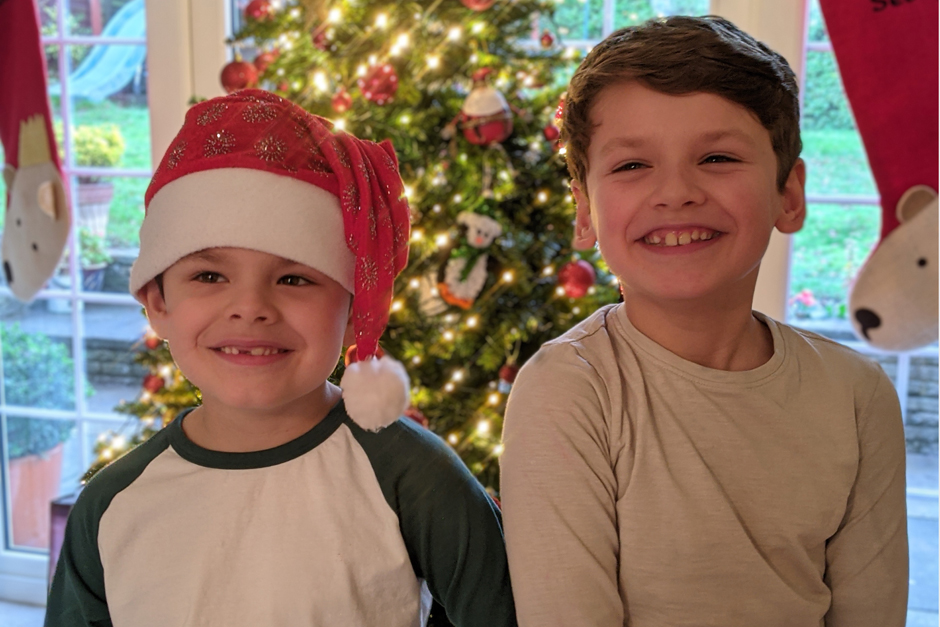 If you've enjoyed reading this blog, feel free to let me know your feedback in the comments below.
Victoria Green is a featured professional wedding and family portrait photographer on Hitched, Bridebook and Wedding Planner.
Thank you for supporting me and my business. I hope this has been helpful.
Have fun snapping at Christmas!
Victoria xx