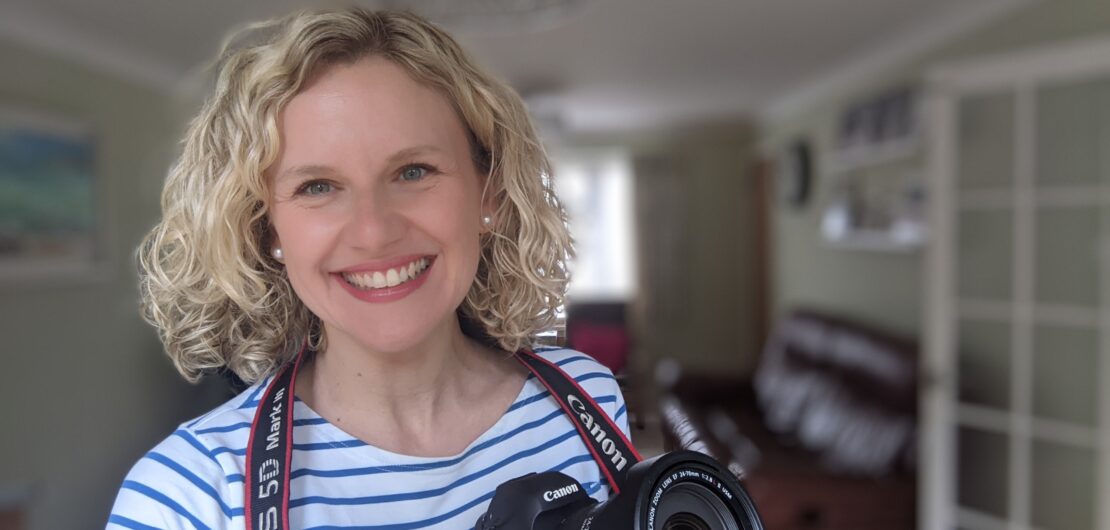 Home » Blog » Wedding Photography Tips »
Incorporating these 8 wedding photography details into your planning will make your final pictures better. Some, a good professional photographer will have down to a tee (but it's good to be aware of). And others you can decide for yourself and direct your photographer at your pre-meeting….
My name is Victoria Green and I am a featured wedding photographer with over 9 years experience shooting weddings across the South East.
1/
** Interesting Fact **
The most awkward physical thing I observe shooting weddings:
People don't know where to put their arms &
what to do with their hands.
A group of men altogether for a group shot, always put their hands in front of their crutch! I can only imagine it's a natural psychological engrained thing in them to protect themselves. But it looks weird in pictures.
A good photographer will be used to this and encourage chaps to put their hands behind their back. The benefit of this is that it also bridges the gap between bodies so your group shots don't have people with awkward spaces between them.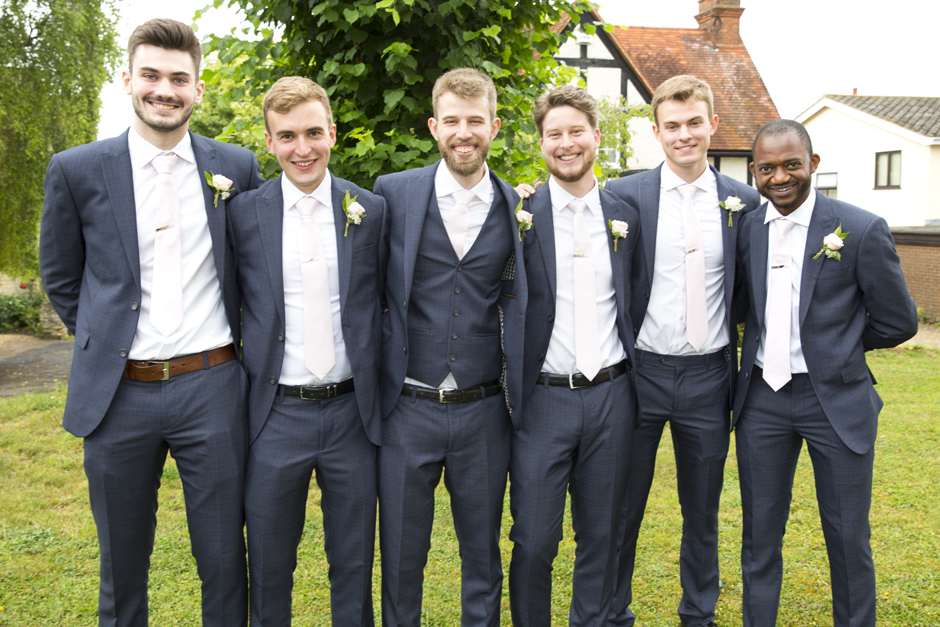 In another example, I encouraged these chaps to hold a lovely glass tankard, part of the vintage theme of the wedding. They instantly looked more relaxed having their picture taken as it didn't feel so formal and stiff.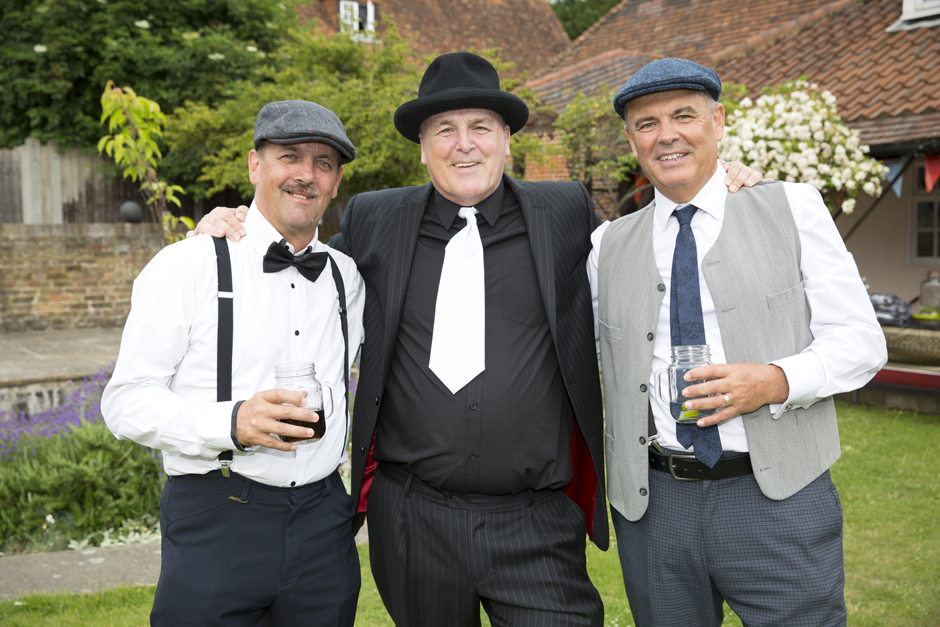 My gorgeous shy groom below, felt more comfortable in the couple portrait shots with a champagne glass in his hand as he had something to hold. And the pictures look more natural thanks to it. It's a very subtle thing but it made a difference.
Lots of grooms benefit in group shots by holding the bride's bouquet. It gets them closer to the bride which works well and again, it sorts the awkward stray limp arm!
Other times this rule goes out the window and it works for some chaps to have their arm by their side – it all depends how comfortable you feel with your picture being taken. This picture is a lovely candid shot – the father of the groom is happy holding his tankard and the chaps are all doing casual things which works because they are comfortable.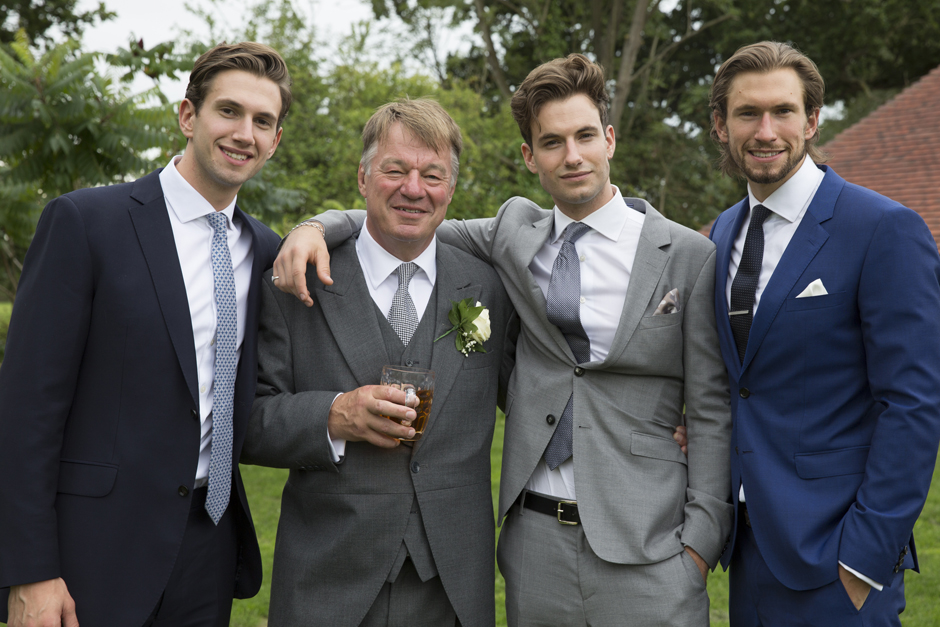 2/ Take your phone out of your pocket.
Everyone puts their phone in their pockets these days. It creates a weird bump one side which can spoil the silhouette of your body in pictures. It's even worse when chaps put their wallet on the other side. The clown big side trousers look doesn't work for anyone!
Make a plan for the both of you on who is looking after anything essential you may need. It's your wedding day – a nominated person should do all the carrying!
3/ Watch out for that Sainsbury's bag!
Wedding guests purchase these gorgeous little dinky designer purses. They look amazing. They match outfits. But they quickly discover they hold diddly squat in them! And they end up having a spare bag for all sorts of other knick knacks they might need.
Your photographer should be seriously on it and will spot funny stray carrier bags / any bags other than cute accessories that attempt to make their way cunningly into your group shots.
Guests with kids, of course are the worst offenders. I have been one. You have several contingency bags for things to keep them amused, spare clothes, etc and you end up lugging them around with you all day.
My two worst offending cases – I have spotted a Sainsbury's Bag for Life right next to the couple during a ceremony (whoever put it there!?). And even worse, I had to delicately manage an Auntie who was holding her Waitrose carrier bag in a group shot!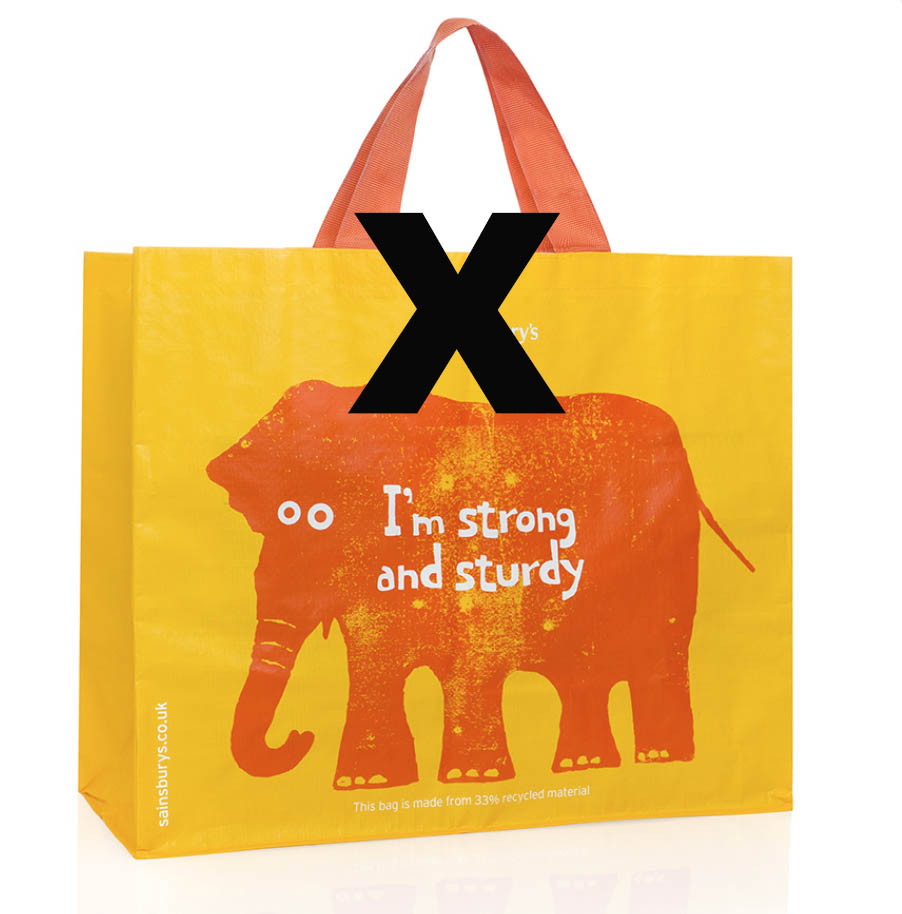 4/ Everyone wears sunglasses on a hot day.
Does this bother you in your group photographs?
For my Summer weddings, I specifically ask this level of detail in our pre-meeting. I have friends that are quite upset all their group pics have everyone with sunglasses so they aren't as recognisable.
Some couples don't care. It's a personal choice.
If you would prefer group shots without people wearing sunglasses – I personally do and usually recommend it – that can easily be managed by your photographer. I never photograph group shots in harsh sun and I photograph with the sun in front of me so it's my problem not people squinting looking weird. So no one to date has ever had an issue with my asking to remove their sunglasses.
Decide what your view is and tell your photographer.
5/

** Top Tip Coming Up **
Manage your confetti shot so it is the last shot in your formal group shot list.
If you're doing it at the church and then going to the reception for group shots this doesn't matter as the confetti will have fallen off by then. But if you have your confetti shot and directly go to group shots….your guests could look like they have severe dandruff!
Of course a photographer can retouch lots of micro confetti particles. But they might not / might miss one / why not go for the easier option!?
6/ Chaps should have their buttons undone for formal photographs if they are wearing waistcoats.
I am not saying this as I am an old you-know-wotsit and entrenched in tradition. I am saying it because it is so much more flattering when you have your arms behind your back to not have a gape where your waistcoat is being stretched. Even slim jims look better when there is less constriction on clothing. Trust me – there is nothing worse than a group of guys looking like their clothes don't fit and they are about to burst! Not the cool suave look you were hoping for with your wedding photos….
7/

** KEY INSIGHT **
People go nutty nuts with their mobile phones when the bride walks down the aisle.
This is one for you to consider and manage. I am seeing more and more couples ask guests to not take photos with their mobiles at the start of the ceremony. Why? Because the best photographer in the world at the end of the aisle, will not get a beautiful pic of the bride walking down the aisle if everyone on the end stretches out their arms holding a tablet / mobile phone. It can potentially ruin this key moment.
If you don't mind and you want everyone to have that freedom – then that's a choice.
If like a lot of couples you want this captured professionally then you can:
A/
Ask the celebrant, registrar or vicar to announce directly before the ceremony begins that the couple have asked you don't take photos and there is a professional doing it.
Usually they will also say, "There will be a time after the photographer has taken pictures of the couple fake signing the register, that you can then go up and take a picture".
B/
More couples are putting a notice in their order of service or posters in frames in front of the ceremony room asking guests to please refrain from mobile phone pics.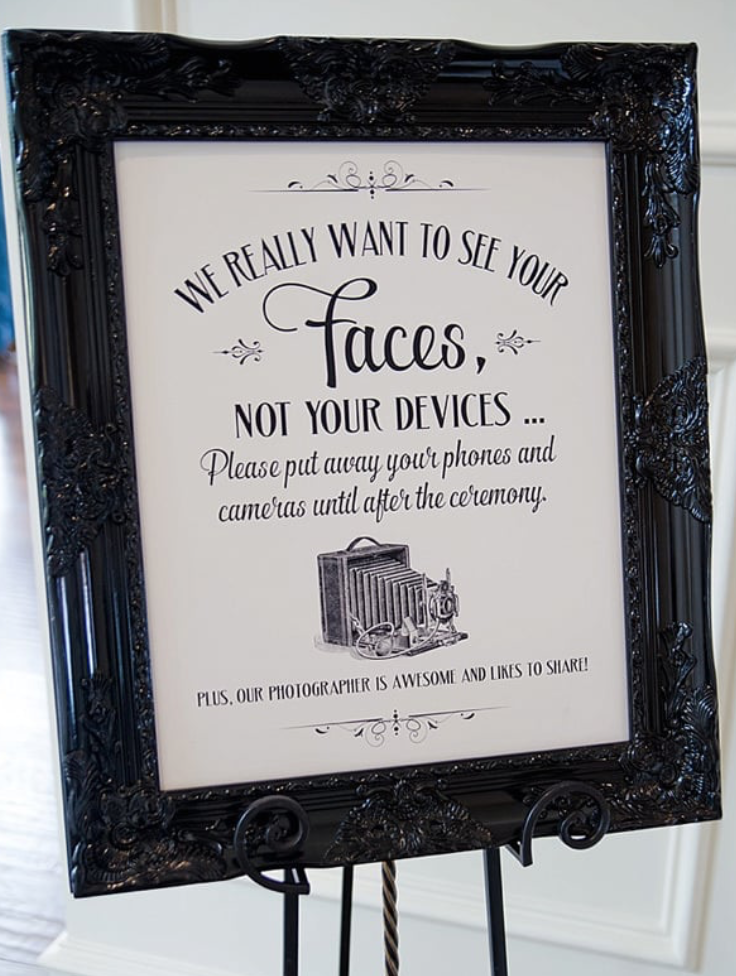 For inspiration and ideas on communicating to your guests an 'unplugged wedding', this blog from The Wedding Play Book is really helpful – click here.
Equally, if you go to Google images or pinterest and type 'unplugged wedding signs' there's lots of different messages in different styles for inspiration.
8/ Don't plan in your itinerary any form of eating during the speeches.
Thankfully, all my couples that planned for dessert during the speeches have been convinced by my persuading them, that this is detrimental to their wedding photographs.
Speech photos are some of my favourite. You can't beat taking pictures of people absolutely laughing their heads of. And then there's sometimes tear jerking moments, big bear hugs – speeches cover all the emotions to guarantee beautiful candid, natural wedding photographs. But if Auntie Maud has her chops full of Eton mess or strawberry cheesecake, you'd wish she had not been laughing! Your pictures will never be good with fragments of food around people's mouths or worse off, big puffy hamster cheeks. What a waste of such an incredible moment.
No matter what the venue says about timings, control and manage your itinerary so there is no eating during speeches.
I've saved the best tip until last! I promise you'll thank me for it.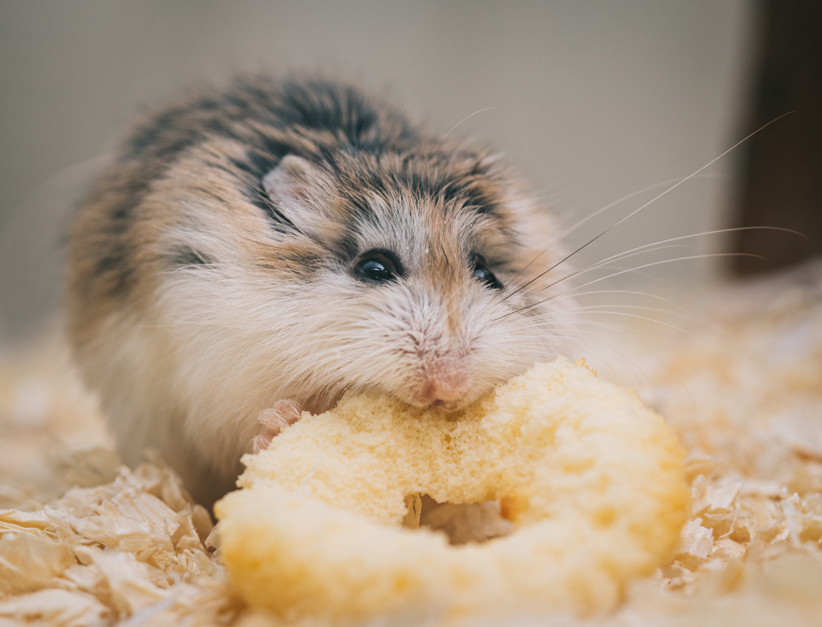 I hope you've found these tips useful. Some might seem a bit minor but each of them really makes a difference to the quality of your wedding photographs. And you should have the best.
If you've enjoyed reading this blog, feel free to let me know your feedback in the comments below.
Victoria is featured on Hitched, Wedding Planner & Bridebook.
Victoria xx