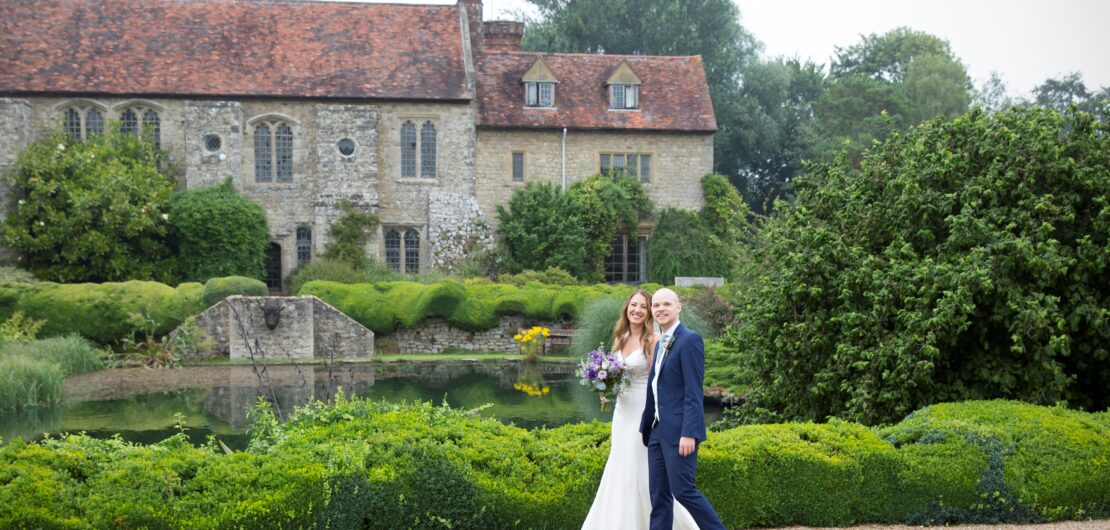 Home » Blog » Real Weddings »
Capturing Hannah & Sam's Nettlestead Place wedding photography in Kent was unadulterated wedding photography paradise with a cherry on top. The setting affords endless opportunities for photos I could have happily run away with Hannah & Sam for the day and not return them to their guests.
We were spoilt by the medieval manor house (where Hannah got ready in the morning), the incredible lake, a rose garden and miles of views of Kent countryside. With the 10 acres of ground, there were more formal gardens to capture portraits and also more wild ground which looks equally brilliant for a natural 'Wuthering Heights' type look. As a documentary photographer, it was wonderful to have so many settings for Hannah & Sam's wedding album.
Getting Ready
Hannah and her bridal party got ready in Nettlestead Place's bridal suite. I was there early doors as I like to arrive at venues very early before the bridal party arrive. Firstly, I plan for every eventuality of travel getting to a wedding venue (might seem OCD but as far as I am concerned, it's not a career where you can ever justify being late!) If the weather is good, I love to capture the outside of the venue before getting busy with the bridal prep. Another reason I love to arrive early before make-up and hair, is that I can spend some time with the dress, shoes and any other accessories my bride would like being photographed. This is before it gets busy and in the politest possible way – people's bodies get in the way! And phone chargers in sockets inevitably start making an appearance!
I had the space to use my longer lens which was perfect so I could stay out of the way and discreetly cover the laughs, toasts and preparations. They hardly knew I was there which was great as I captured lots of candid shots.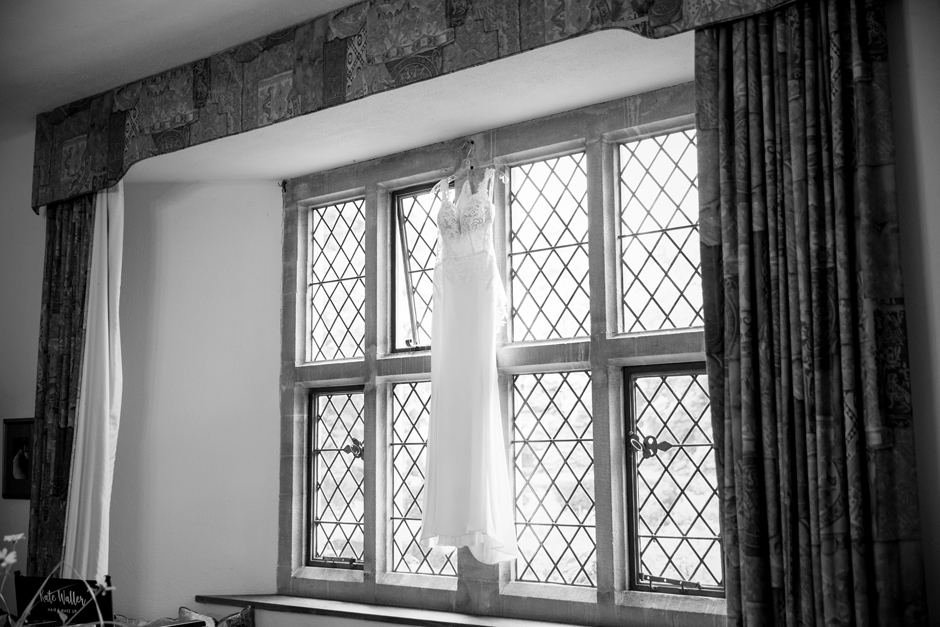 The Ceremony
Hannah & Sam's dream was to have their ceremony outside at Nettlestead Place – although Hannah appreciated having the amazing ambient 13th century undercroft as their backup plan. Poor Hannah spent most of the morning looking at the BBC hour by hour forecast. The week leading up to their wedding – the weather forecast showed 95% chance of rain. By some miracle, there was a massive about turn in the morning. I arrived to thunderstorms and by mid morning the sun was creeping through. Horray!!!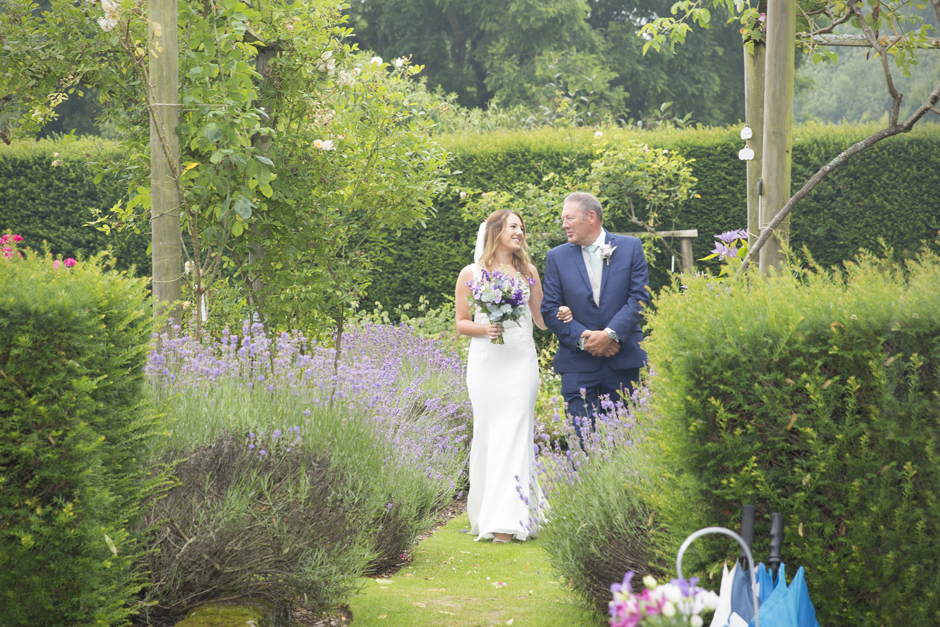 Couple Portraits at Nettlestead
I grabbed Hannah & Sam directly after their ceremony for some couple portraits. My couples often feedback that they love stepping away from everyone jumping on them and getting some alone time directly after the ceremony. I often start with my long lens and walking shots so there is time to chat as husband and wife for the first time and have that moment of peace, romance and serenity (before the partying!)
During our pre-meeting Hannah & Sam had pointed out to me the particular settings and backdrops they really loved. I made sure these featured and had recommended some other opportunities they appreciated too. We did a mini circle of the lake, around the lake, the rose gardens, arches so we covered all their favourite hot spots!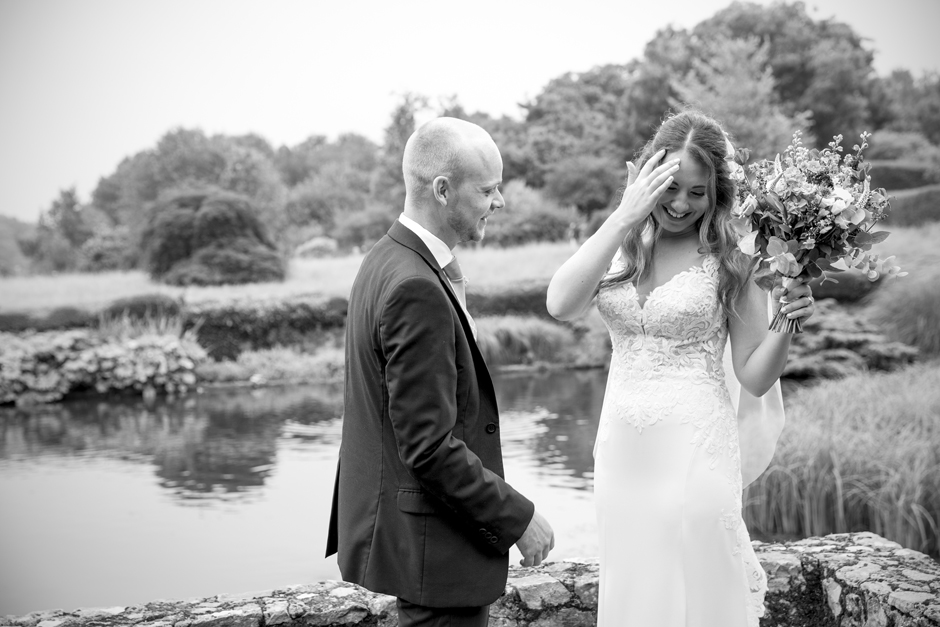 Group Portraits
As well as what I would call the 'traditional group shots', Hannah and Sam were up for my suggestion to have the guys in their sunnies walking on the path to add a splash of fun. We also went back to the lake so as well as close-ups of the bridal party, we paid homage to Nettlestead Place's awesome setting with the lake at the front and the manor house as the backdrop.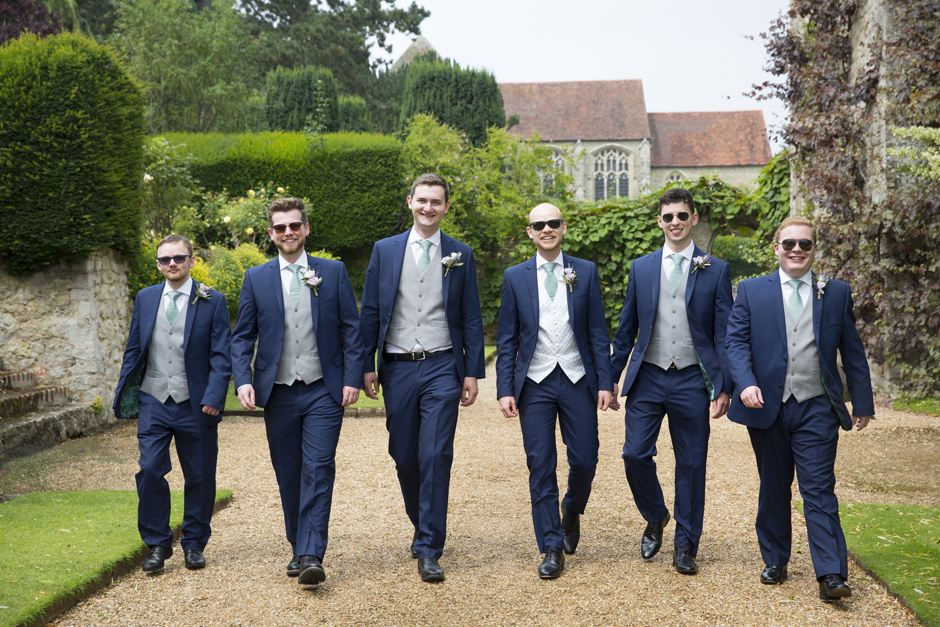 The Details
A spectacular spectrum of purples dominated the country theme for Hannah & Sam's Summer wedding. This was no better represented than in Hannah's striking bouquet thanks to Suzanne Price at The Flowersmiths. The overall country theme was extended with sprigs of lavender on every table setting, jam jars full of fresh country flowers, vintage white picture frames, white lace name cards and hessian flower vases. Personally, I loved the chupa chups on the guest table!!!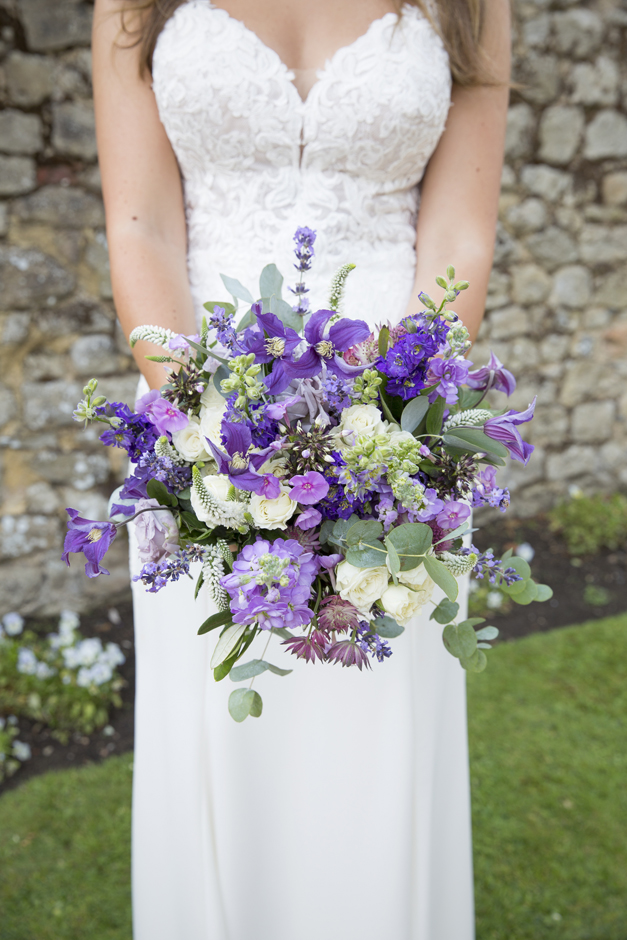 The Marquee Reception
One of my favourite moments to capture at a wedding is the speeches. The reactions I manage to capture are fantastic and cover such a range of emotions – sometimes tears to no holds barred laughing fits! The bride and groom by this stage are super relaxed as all the formalities are over. And I am often on my long lens capturing the partying and frivolities from a distance so people hardly know I am there.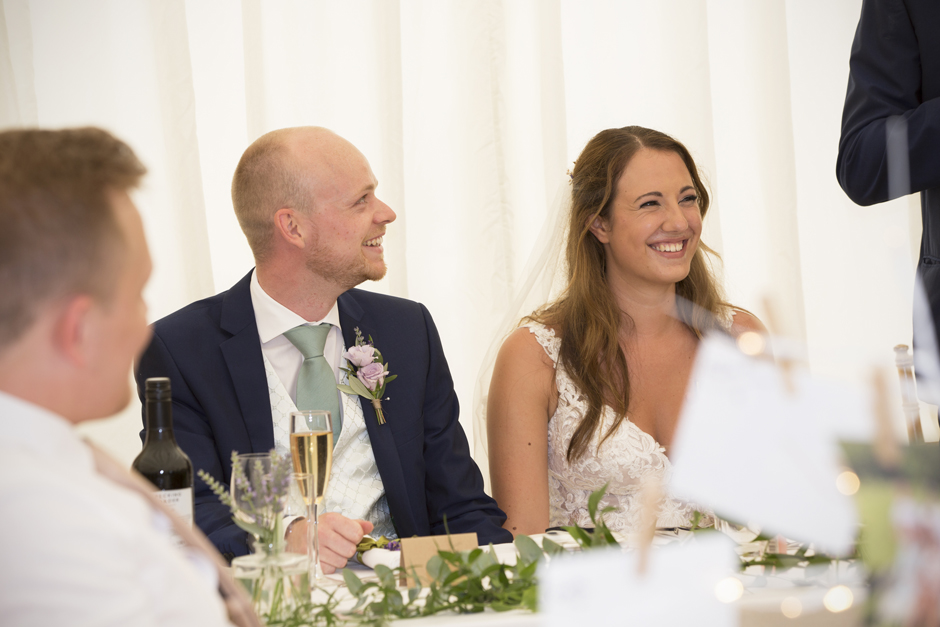 Evening Reception & The First Dance
Hannah & Sam's evening kicked off to live entertainment by the very talented The Rock Pins. Although Hannah & Sam signed up to my most popular Gold Storytelling Package covering up to the first dance, I have to confess I was enjoying watching the dancing fun so much, I stayed a bit longer to capture some funky dance moves!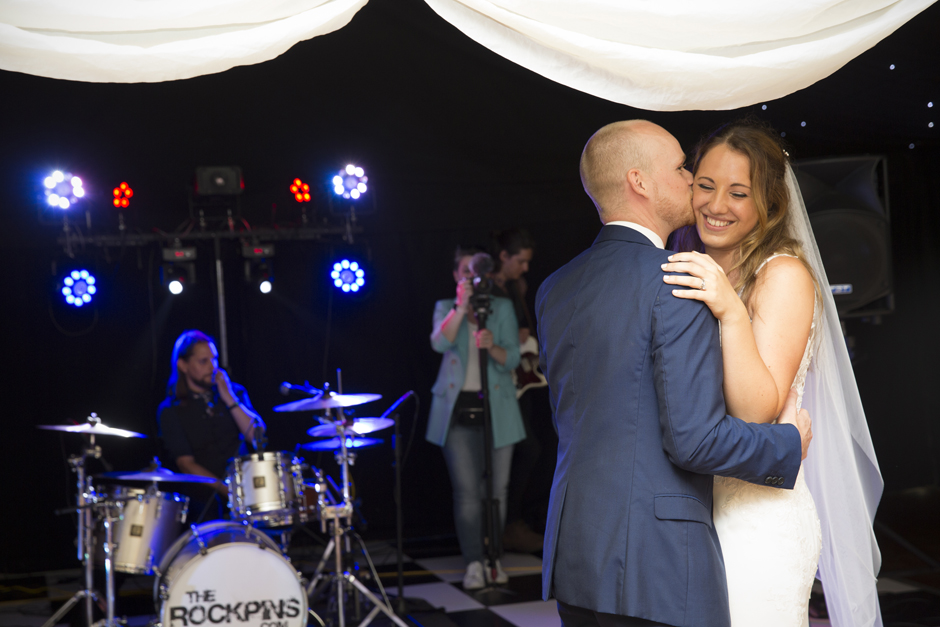 An Incredible day…
If you would like to see the full gallery from Hannah & Sam's wedding at Nettlestead Place, please click here.
If you would like a chat about me becoming your Nettlestead Place Wedding Photographer, send me a message.
Here's a list of the amazing suppliers who made Hannah & Sam's wedding so special:
Venue: Nettlestead Place, Kent
Videographer: Emmanuel & Christina, Emmanuel Films Ltd
Florist: Suzanne Price, The Flowersmiths
Hairdresser: Kate Waller, Kate Waller Hair & Make-up
Make-up Artist: Kate Waller, Kate Waller Hair & Make-up
Wedding Dress: Victoria's Bridal Boutique Ltd
Groom and Groomsmen attire: Moss Bros
Matching Dressing Gowns: Bespoke Gems, Etsy
Matching Hair pieces: My Lovely Wedding Store, Etsy
Band: The Rockpins
Venue dressing: Your Beautiful Day
Cake: Sugar and Spiced Cakes
Good-luck with your planning,
Victoria xxx