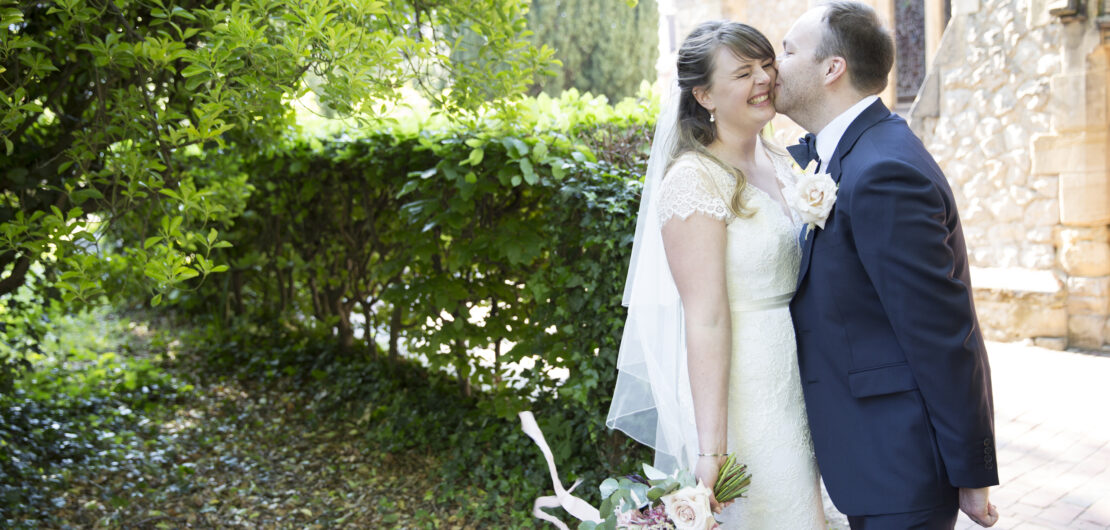 Home » Blog » Real Weddings »
Covid wasn't going to stop my lovely couple Naomi & Owain getting married after already one reschedule. They're decision was to have a small church ceremony with 30 guests (the maximum allowed in May 2021) at St Stephen's Church, Tonbridge. This was followed by a 'gathering' in the sunshine outside the church in the church's pre-school garden.
They are going to have their massive celebration with extended guests next year. At the time of writing this, Boris this week has announced wedding guest numbers are now unlimited (a step in the right direction!) I wanted to share this if you're a couple having a smaller wedding in 2021 or you're looking for inspiration for socially distanced ideas. What Naomi & Owain's wedding proved is that social distance conventions don't have to get in the way of having a beautiful intimate ceremony and ultimately becoming a Mr & Mrs.
The Details
It was a relatively short time for me to be shooting – only 3 hours compared to my usual 14-hour plus day! But I started, as I usually do, by capturing all the little details that make every wedding so unique and individual. I absolutely love personalised details. Naomi & Owain's ceremony details included beautiful wooden woven heart seat decorations, personalised gift bags placed on chairs – including a bottle of prosecco with disposable glass, fresh cupcake & dried rose petal confetti (this was a great get around as guests were not able to drink / eat after the ceremony as they were not seated – in line with the government covid restrictions).
The bride and groom had designed a seated table plan for the church ceremony to aid speed of sitting down so guests felt super comfortable. I loved the message enscribed, "Distance makes the heart grow fonder".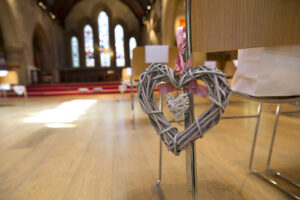 Guests Arriving
I always capture the guests arriving into church / the ceremony room. To keep a good social distance, I did this outside in the fresh air rather than looming around the entrance (a favourite haunt for photographers to go unnoticed! ?)
The Mother of the Bride, Linda – looked unbelievably glamorous! I love to capture the key members of the family arriving. Their excitement is plain to see.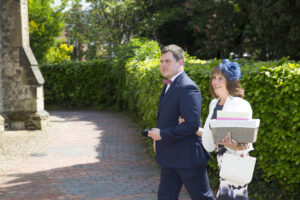 Bride Arriving
St Stephens in Tonbridge has a beautiful centuries-old lychgate. The bride arrived in a sky blue Rolls Royce on the road outside so I had an opportunity to capture some group shots underneath it and the bridal party walking towards the church entrance.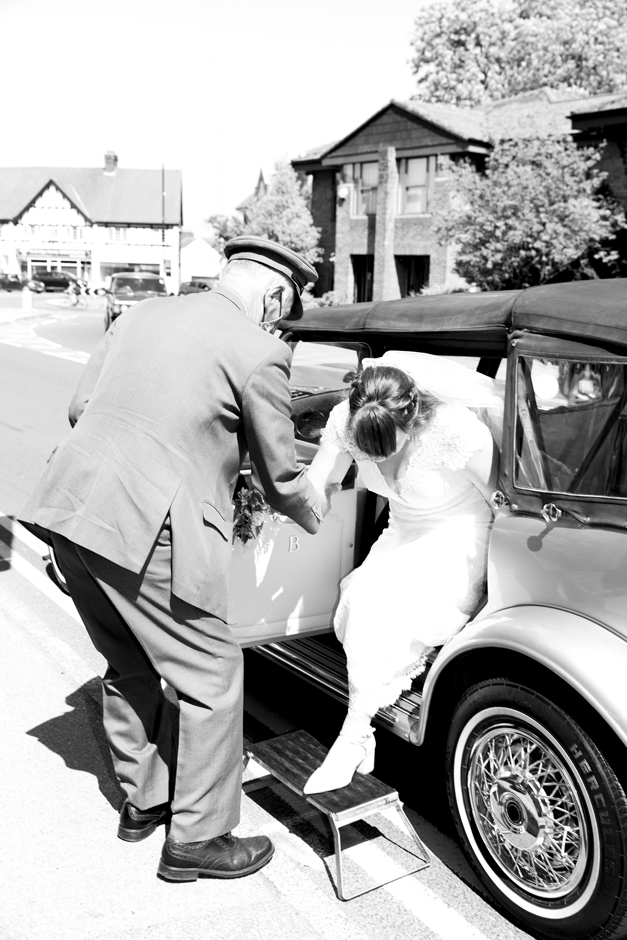 I then captured Naomi and her dad walking down the church path before running to join the groom at the front of the church (I love this moment – when the groom sees me next to him he knows he is going to see his bride imminently. The tension dials up a notch. And of course, I capture that feeling!)
The Ceremony
The three things that characterised a difference compared to the traditional church ceremony pre-covid was 1/ Less guests – usually the church is quite crowded! 2/ All guests (and me!) needing to wear masks. Only exception was the vicar when speaking and the bride and groom 3/ No singing allowed – so we had some beautiful music over the sounds system (and St Stephens has an incredible sound system which certainly created a romantic, ambient tone).
Although there was less people and the above restrictions in place – it was none of the less extremely romantic and poised with emotion. In some ways, more so given everything Naomi & Owain have gone through to get to their wedding day.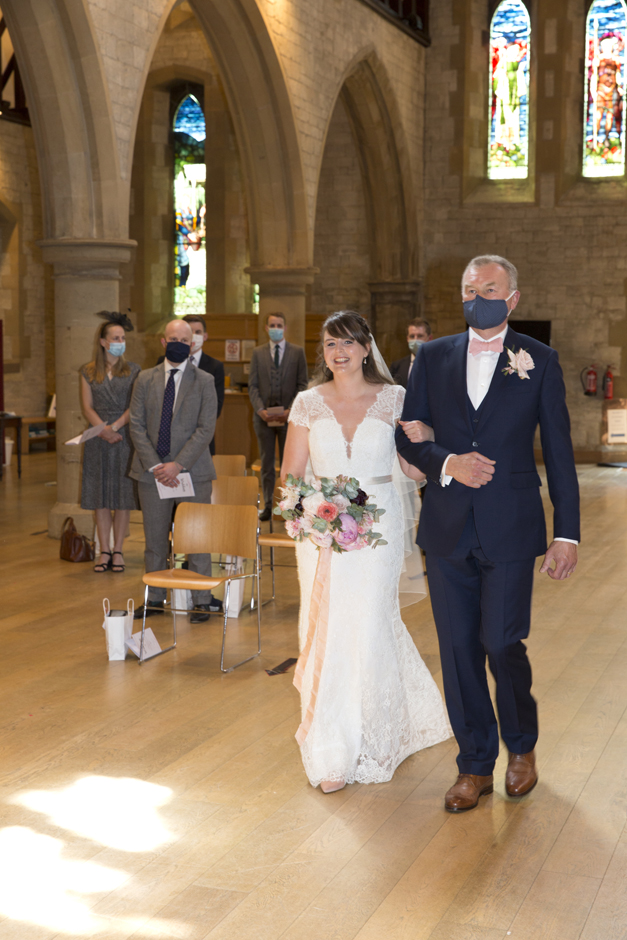 The bride and groom will probably have a blessing next year with all their guests, so their request was that I captured the face masks and the empty chairs to give a real snapshot of what getting married in May 2021 looked like and meant to them. They didn't want it hidden or worked around. They wanted it captured as a memory. As I am anti-artificial / fake set-ups, I was very happy to carry out their wishes.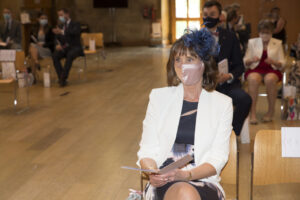 Socially Distant Group Wedding Shots
One of the things I love most about my job is working with couples and listening to how they want their wedding to be and what is important to them. Naomi and I had a fantastic relationship sharing a pinterest board full of inspiration of how we could make sure our group shots didn't look distant, cold or awkward whilst keeping social distancing rules where appropriate.
Our work arounds were…
1/ Capturing group shots with parents not in a line up
I feel very strongly no one is flattering shot in a line up formation – we aren't auditioning for a theatrical production of The Usual Suspects at weddings! Respecting the covid guidelines, we positioned parents slightly behind the bride and groom so we weren't creating visually what looks like a massive space if you position people in a horizontal line up. I think this worked really well. And when we photograph parents next year, it will be nice for Naomi and Owain to look back at the various artistic decisions we had to make in 2021.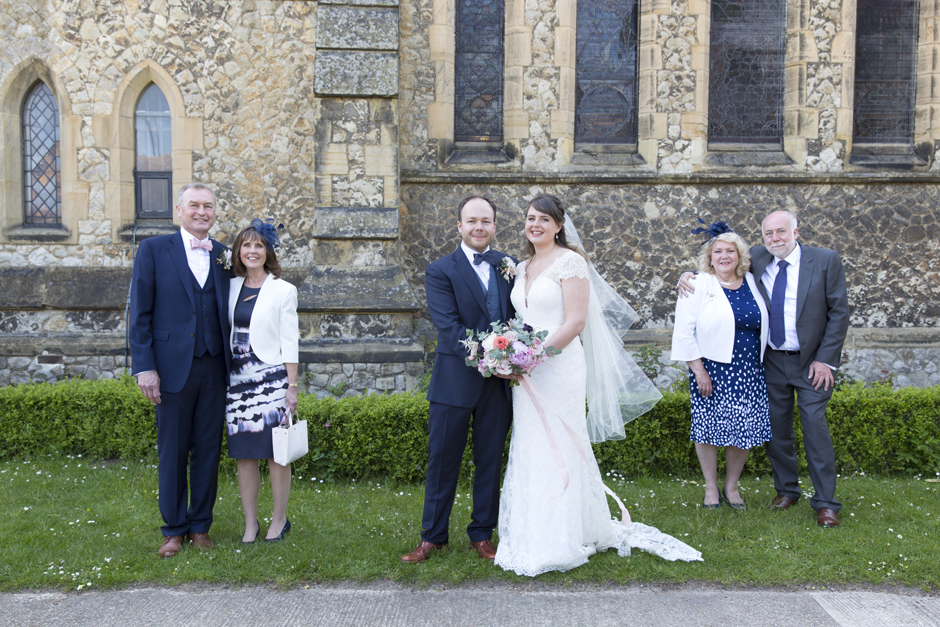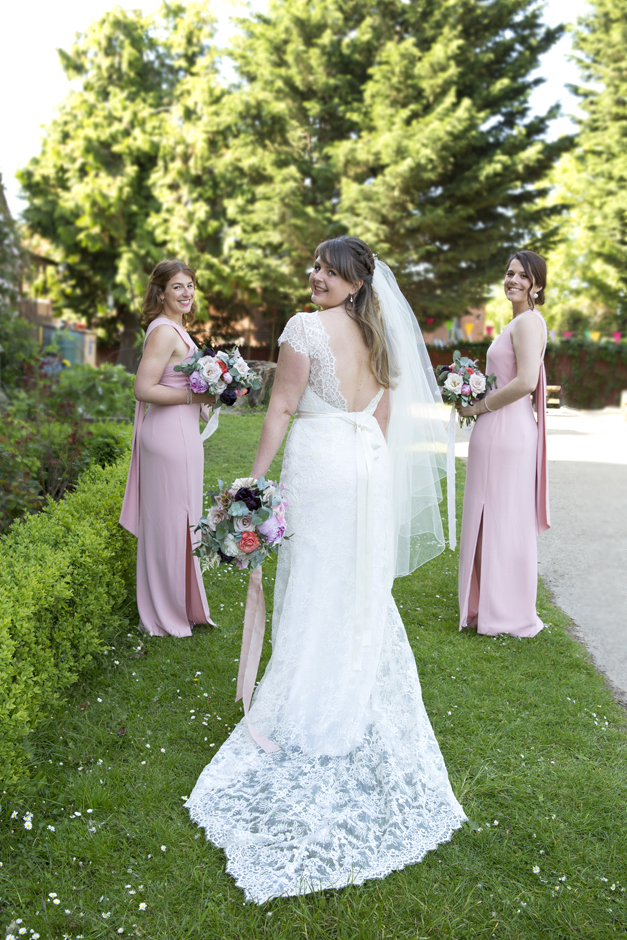 2/ Comfortable people = best pictures
Naomi and Owain loved the idea of some group shots with people walking as it looks natural & less awkward. Naomi had read The Ultimate Photography Guide for Camera Shy Couples and knows how much I love walking shots for making people feel more comfortable in front of the camera. This works really well for socially distanced wedding photography. The social distance gap is made by placing people at a vertical depth rather than horizontally. And everyone looks super happy and genuinely really comfortable and natural as they have something to do other than just grin!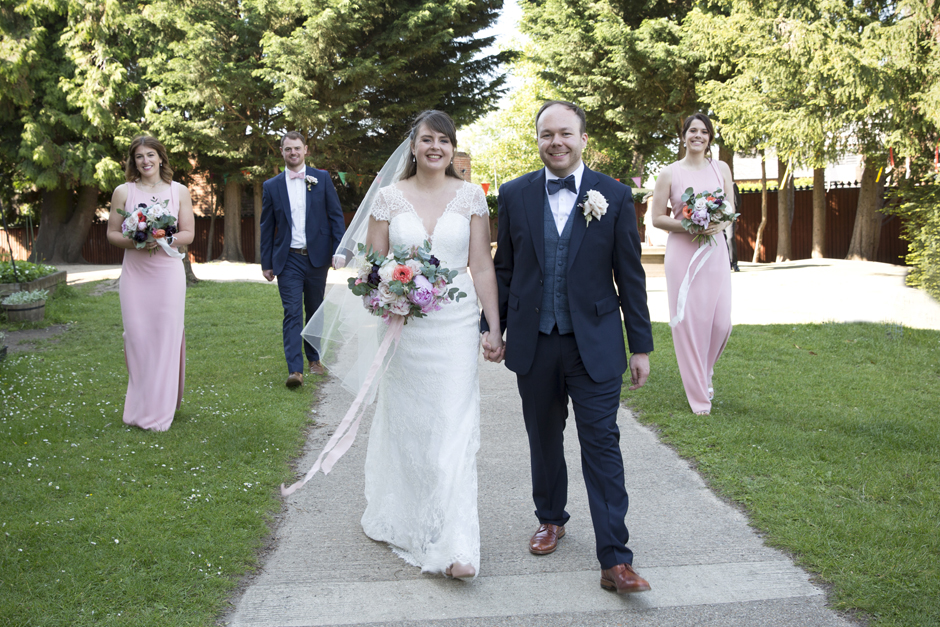 3/ Confetti Tunnel
By creating a confetti tunnel the couple walked through, we were able to get guests seeming like they were closer together than they were. And also family members of the same household could be together anyway so I was able to shoot nice and cosy. I am delighted Naomi & Owain took my advice to give their guests a lot of confetti. It makes a world of difference. It looks a bit naff just having a tiny amount shot into the air. The more the better! It doesn't go as far as you would think…. The dried flower petals looked beautiful and I am obviously a super fan as they are an environmentally friendly option too.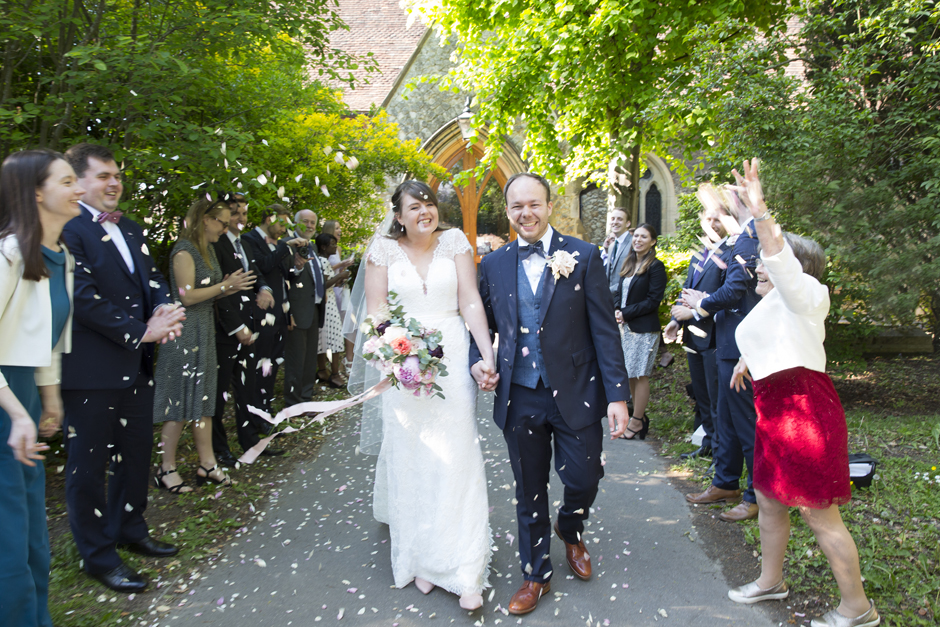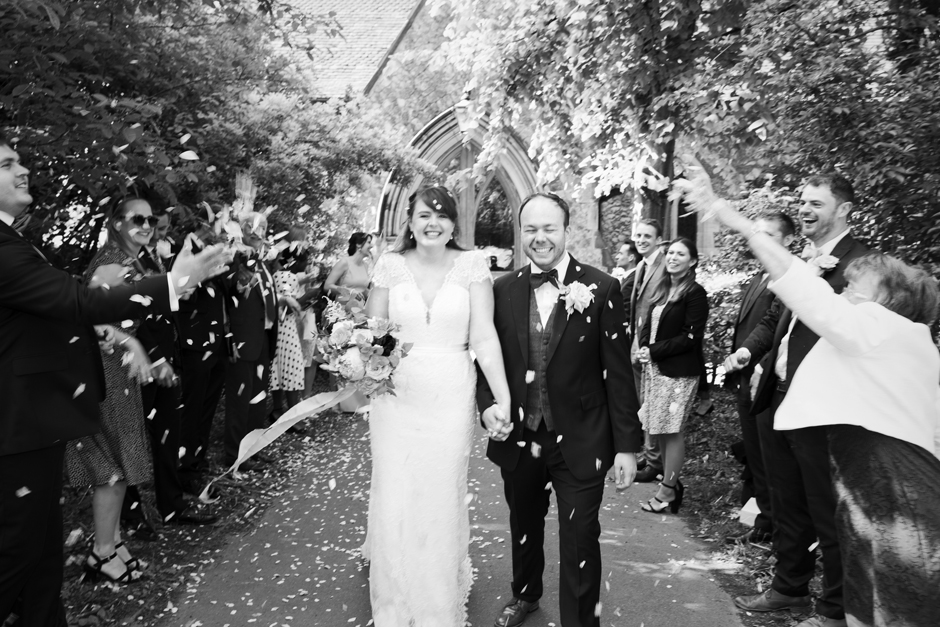 Bride & Groom Portraits
We had very little time before Naomi & Owain needed to depart to their hotel. But, I am delighted with what we captured in the minute or so that we had together on our own…❤️.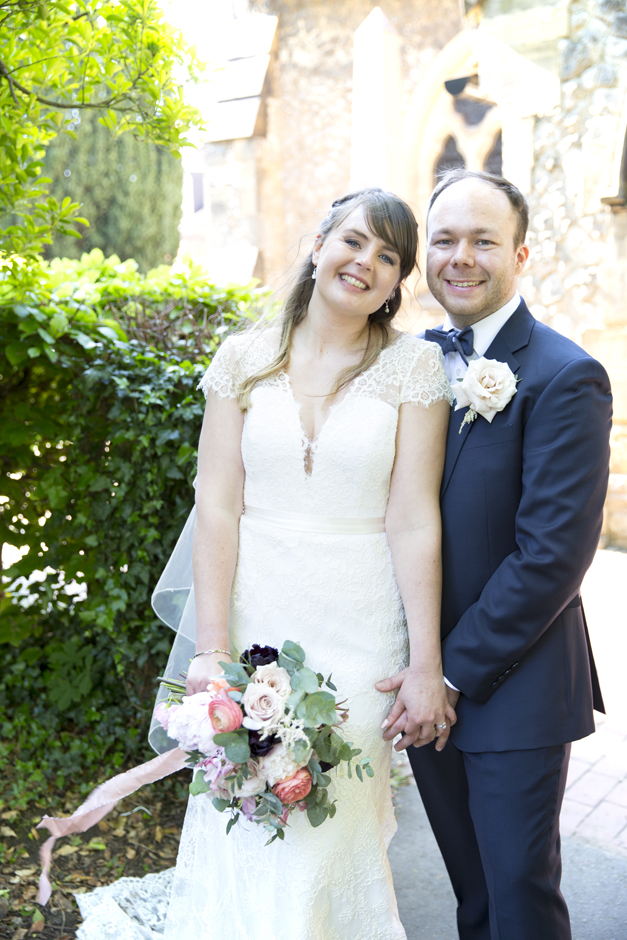 Personalised Details
I always make a joke to my couples that our pre-meetings must feel like the 'Spanish Inquisition'! Because I ask quite a few detailed questions and make reams of notes. But I never regret it. Otherwise I would never find out about all the amazing details that have been planned. A lot of the personalised details can be extremely subtle. I could risk missing them if I wasn't told about them. The pink pineapple within the bouquet (shown below) is a beautiful nod, for example, to Naomi's nickname. And the 'W' on the back of Naomi's shoes (also shown below) is Naomi's new surname initial. Such lovely and understated detail I could have missed without gleaning in our pre-meeting ?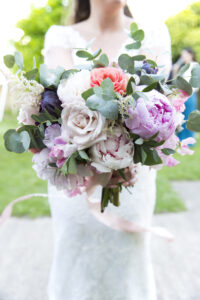 I can't wait to capture Naomi & Owain's big wedding celebrations in 2022.
List of suppliers that made Naomi & Owain's wedding so special:
Venue – St Stephen's Church, Tonbridge
Dress – Clementine Bridal
Suits – Charles Tyrwhitt
Waistcoat – Well Suited
Rings – Robert James Jewellers
Flowers – Lilac and lace Floral Design
Hair – Jules at Not another stylist
Nails – Faye at The Gels Lady
If you'd like to have a chat about your wedding plans, I would love to hear more!
Victoria xxx